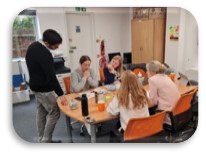 Educational visits are brilliant … one of our favorite interactions. Education and a bit of fun in a package. Bringing meetings partners together in a high-value engagement.
Read more from the stakeholders…..
Ken Carter, Client Services Director at Activate hosted Simon Beard of Healthcare-Venues.com and Patrick Brady of Park Plaza Hotels to roll out one of our Educational Visits. During the session, we shared recent "compliance" changes and used case studies to understand the perceptions and actions when considering compliance for meetings and events.